Job Openings
Grants Coordinator
The Grants Coordinator will directly support the fundraising efforts of Alliance For Children through foundational and community support in the form of grants and appropriate grant management relations. This position will research, write, submit, and support funding through the avenue of grant applications, communications, and affiliated reports, projects, and materials. The Grants Coordinator will work cohesively with staff and partners to clearly communicate, as well as fulfill the efforts and needs of Alliance For Children to the community.
Minimum Requirements
•    High school education required; Bachelor's Degree preferred.
•    Prior experience as a grant writer preferred.
•    Strong written and verbal communication skills, articulate, excellent proof-reading skills.
•    Organized, detail-oriented, efficient, and successful at meeting multiple deadlines.
•    Excellent professional and interpersonal skills both in person and by phone.
•    Proficient using the latest versions of Microsoft Word, Excel, email, and web searches.
•    Ability to prioritize, plan and execute projects to meet high standards and all deadlines.
•    Must be an enthusiastic and dedicated team player with a strong work ethic, and willing to work occasional evenings and weekends.
•    Knowledge of a Children's Advocacy Center a plus.
•    Raiser's Edge and Greater Giving database experience a plus.
•    Must have valid driver's license and proof of liability insurance if driving for agency purposes.
•    Must successfully complete annual criminal and civil background checks.
•    Able to maintain confidentiality and present in a positive, professional manner at all times.
•    Able to maintain composure and professionalism under pressure of deadlines.
•    Regular and reliable attendance.
•    Personal qualities of integrity, credibility, and dedication to the mission of Alliance For Children.
Job Duties/Essential Functions:
•    Identify needs of Alliance For Children programs and direct monetary fits to secure funding from area foundations and grantors.
•    Research, write and submit private grants in support of funding for programs, general operations, and other identified areas to meet Alliance For Children's fundraising budget.
•    Coordinate and maintain the grants calendar, grant communication and support forms, and required documentation in an organized fashion.
•    Work cohesively with the Finance Department and Outcomes Specialists to obtain necessary information for supporting documents.
•    Provide all follow-up reports and requested documents to funders for operational and capital gifts. 
•    Work alongside Development Coordinator to ensure the generating of timely thank you letters pertaining to awarded grants.
•    Document all requests, supporting documents, and actions in appropriate constituent records in Raiser's Edge and ensure accurate coding for use of funds.
•    Work alongside the Finance Department and Outcomes Specialists to ensure that funding is being spent and tracked appropriately to grant guidelines and gift conditions.
•    Communicate needs, expectations, report information, and timeline of funding to program supervisors, directors and staff.
•    Maintain e-filling of appropriate grant documents, including grant proposals, progress reports, communication forms, signed agreements, checks, etc.
•    Investigate new avenues of potential funding.
•    Assist Director of Advancement with foundation and corporate stewardship action alerts, needs, and establishment and maintenance of relationships as appropriate. This would include, but is not limited to monetary and in-kind contributions, as well as building depth to relationships with foundation/corporate contacts, and seeking out opportunities for further engagement with the agency even outside of funding resources.
•    Assist with drafting wording for development promotional, donor recognition, and other development materials.
•    Build strategic routes for sound funding avenues to meet, if not exceed, annual agency budget, particularly in regard to grant support. 
•    Other duties as requested by the Director of Advancement.
Physical Requirements:
Able to sit, walk, stand, bend, squat, kneel and twist on an intermittent and sometimes continuous basis. Able to grasp, push, pull objects such as files, file cabinet drawers and reach overhead. Able to operate a telephone and computer. Able to lift up to 25 lbs. (usually office supply boxes). Moderate independent travel by private auto required.
Please click here to submit your resume and complete an application detailing your qualifications for this position.
Questions specific to this position may be directed to Paige McNamara at PMcNamara@allianceforchildren.org.  No phone calls please.  
Alliance For Children provides equal employment opportunities (EEO) to all employees and applicants for employment without regard to race, color, religion, sex, national origin, age, disability, marital status, veteran status, sexual orientation, genetic information or any other protected characteristic under applicable law. 
---
Internships
Interns who work at Alliance For Children not only work in a therapeutic setting, but can also be given the opportunity to work closely with law enforcement, the Tarrant County Criminal District Attorney's Office, and the Texas Department of Family and Protective Services. Internship positions are provided through our Clinical and Family Advocate programs at all Alliance For Children locations. 
To contact us about applying for an internship, please click here.
General Internship Requirements:
•    All applicants must submit a resume, complete an application and provide three professional references.
•    All interns must pass a criminal and CPS background check.
•    All interns must be attending an accredited university seeking a degree in social work, counseling or related field.
•    Students must be willing to work some evenings and weekends and be able to provide their own transportation among all six Alliance For Children locations.
•    All interns will attend specific training for their placement as well as child sexual abuse prevention training prior to working with clients.
•    Students must commit to one semester at Alliance For Children.
•    Students must commit to 15 hours each week.
•    Students will agree to participate in weekly supervision with their supervisor.

Clinical Internship Requirements:
•    Applicants must be seeking a master's level degree in social work, counseling or a related field.
•    Students must have completed practicum and coursework in counseling theories prior to placement.
•    Interns must be willing to work with clients of all ages in a therapeutic and/or group setting.
•    Must attend a monthly Clinical Team meeting.
•    Students must commit to two semesters at Alliance For Children.
If you have questions, please contact Diana Davis at DDavis@allianceforchildren.org.
Family Advocate Internship Requirements:
•    Applicants must be seeking at least a Bachelor's level degree in social work, counseling or related field.
•    Interns must be willing to participate in multidisciplinary staff meetings, observe and implement family needs assessments, provide case management services when needed, research local family resources, and learn crisis intervention techniques.
•    Interns may also be asked to participate in community events, fundraisers, educational programs and other programs offered by Alliance For Children.
If you have questions, please contact Lindsey Dula at LDula@allianceforchildren.org.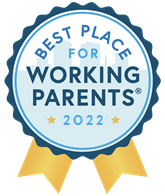 We are proud to be counted as one of Fort Worth's Best Place for Working Parents™ for the second year in a row, in recognition of the family-friendly policies & practices we offer to support employees, specifically working parents.