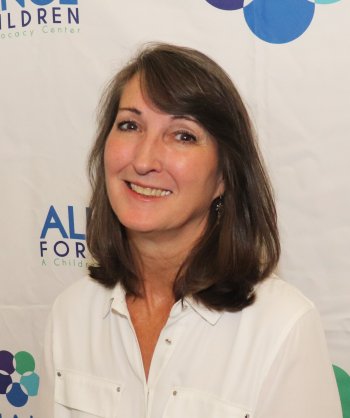 What is the value of a volunteer?
We all know inherently that volunteers are a great support to any non-profit.  I would like to take a moment, however, and share why Alliance For Children values our volunteers who so willingly give of their time to support our mission: to protect Tarrant County children from child abuse through teamed investigations, healing services, and community education. 

Volunteers Invest Time and Resources
It is often assumed that volunteers are free.  It is true that volunteers freely give of their time; but we recognize this comes at a cost of the invest of their time and resources in our mission.  A significant investment is made each time a volunteer signs up to participate in one of our many volunteer opportunities such as assisting us in our centers, participating in our week-long day camp held twice a year, or working alongside us as we makeover a child's room where they have experienced trauma. No matter the volunteer task, assignment, or activity, each hour of donated volunteer time directly impacts our ability to better serve the children and families supported by our agency throughout the year.  

Volunteers Invest in Community
This investment is also reflective in their passion demonstrated by advocating for our mission in community.  We recognize that our volunteers come from diverse backgrounds and are influential in helping us to build critical community relationships. This takes place as volunteers share our mission in normal every day conversations held with friends, family, and other community members.  Volunteers readily share their experiences and encourage support by asking others, for example, to join our volunteer program, participate in a donation drive, attend a fundraisers, or support one of our client service events such as our Christmas Connection or Back to School programs.  These conversations result in extending our agency's reach out into community beyond what we might be capable of through our normal channels.  

Volunteers Invest in Bringing Awareness
Volunteers are also influential in assisting us in educating the community and bringing awareness to the issues surrounding child abuse.  This occurs organically as volunteers help us to grow our social media presence by sharing posts with their friends and those in their sphere of influence.  As volunteers participate in our community trainings such as Stewards of Children, they allow us to invest in them so that they understand how to recognize and respond appropriately to child abuse, while also learning how to take the necessary steps and measures to prevent abuse from ever occurring.  Child abuse can be prevented but it will take whole communities working together and alongside us in our mission to ensure that our children are protected.  While this may seem unattainable, remember that walls of protection are built one brick at a time.  We recognize that our volunteers are directly instrumental in working with us to make this happen.  

For all these reasons and more, volunteers not only add value through their collective support and contributions; our mission and work as the Children's Advocacy Center of Tarrant County would not be possible without them.  
About the Author
Jamie Harton has worked at Alliance For Children for six years and since 2017, she has served as the Volunteer Coordinator. As a graduate of the University of Texas in Arlington, Jamie's formal education and career experience centered around business systems design and development. However, having adopted two daughters in 1994 who experienced abuse and did not receive the needed services required, Jamie was drawn to invest in Alliance For Children.  Jamie works diligently to recruit, train and educate volunteers, teaching them the importance of advocating for child abuse victims and their families. Along with this, she spends time in the community, empowering adults and children on prevention skills.  In her free time, she likes to garden and spend time with her grandkids.