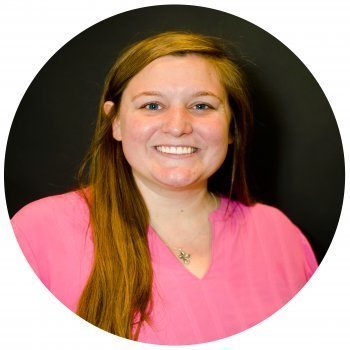 Our mission at Alliance For Children is to protect Tarrant County children from child abuse through teamed investigations, healing services and community education. The healing services component is comprised of not only our clinical services, but our Family Advocate Program, which is essential to the work we do. Our family advocates are trained to walk alongside families as they navigate the process of healing from the trauma of child abuse, because abuse does not only impact that child, but it ripples throughout the family. Family advocates help to ensure that families have all the resources, financially or otherwise, to move forward towards healing. 
I sat down with Megan Wolstein and Carlos Benitez, two of our family advocates, to hear more about their work, their passion, and their advice for caregivers. 
Carol Logan (CL): Out of all of the places that serve children and families, what brought you to Alliance For Children?
Carlos Benitez (CB): I met and had been in contact with family advocates from Alliance For Children. Every time we spoke, what they embodied as family advocates gave me a sense of the culture at Alliance For Children. It left an impression on me and I knew I wanted to be part of what they were providing to families as family advocates at Alliance For Children.
Megan Wolstein (MW): I heard positive things in the community about the services offered at Alliance For Children and liked the mission of helping children and families impacted by abuse. 
CL: I love hearing that you both felt a strong connection to the mission and culture at Alliance For Children. On a personal level, tell me the "Why" behind why you entered into this field of work. 
MW: I have always felt drawn to help others when I am able, as I had a great support system when I was younger and they made me feel like I could take on the world. I hope to help others feel the same way. 
CB: I do this in the hope that families will obtain facts from our encounter that encourage them, give them hope and motivate them to keep moving forward. I also hope that the information I provide families with is enough that they too can encourage, motive and give hope to others they encounter who may be walking through something similar. 
CL: Knowing how many families you both have impacted and have helped- I can assure you that you both are truly living out your "why". The nature of this work I am sure can be challenging at times, what keeps you motivated? 
CB: I get to see and speak to families everyday who don't know what to do anymore or who to turn to for assistance through this most difficult time in their life. I get to let families know every day they are not alone, they are at the right place and they are with the right people who care and will walk with them through this difficult time.
MW: My "why"- bringing hope and support to someone when it might be their worst, most unimaginable day.
CL: You both work with families of children who come to Alliance For Children due to suspected abuse. What is the best advice you can give to a parent who suspects their child might be a victim of abuse? 
CB: I believe we as parents and caregivers need to listen without interjection, report to law enforcement and seek help through an advocacy center where professionals in the field can assist you with the resources you need to begin your journey forward.
MW: Provide a safe, trusting environment for your child so they feel they can come to you with no reservations. In addition, the most important step to take is making a report. You can make the report online at txabusehotline.org or by calling 1-800-252-5400. 
CL: You both mentioned the importance of providing a safe space for children to be able to share. I would love to hear about tips you'd give to parents or caregivers on bonding with children and cultivating that trusting environment. 
MW: My biggest advice would be to open up your lines of communication and give your children the why of the things you're saying – as silly as it sounds – explaining things to them and giving them a feeling of autonomy over their own life (as much as possible) will strengthen their trust in your relationship.
CB: I believe unplugging from technology and spending some family time together makes a world of difference. I like to sit together with my family and have dinner. Then, in the evening we go for a walk. I noticed that during those times everyone gets opportunities to ask questions or just talk about what happened throughout the day. These conversations have opened many teaching moments for my family.
CL: Thank you both for sharing your "whys" with me and for all that you do for children and families. 
For more information on the services Alliance For Children provides to children and families, please visit www.allianceforchildren.org. 
About the Author
Carol Logan is the Community Engagement Supervisor who has worked at Alliance For Children for 4 years. She loves working with schools and the community to schedule education. Her passion is prevention education because she knows it can make a difference.  In her time outside of the office, she can be found spending time with her husband and newborn son.